"Portrait of Excellence"
21" x 38" Poster
$45.00
Discounted imperfect poster
(Slightly flawed at edge, will not show when framed or trimed)
$35.00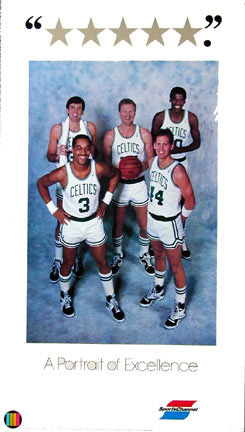 A poster of the Celtics "Starting Five", Larry Bird, Robert Parish, Kevin McHale, Danny Ainge and Dennis Johnson.
These posters were created as a one time gift at Boston Garden and never sold to the public. The print quality is extraordinary.
We have a limited quantity available and these few are the only "Portrait of Excellence" posters available anywhere by the photographer, Steve Lipofsky.